The Two Mississippi Museums, MPB Present Virtual Panel on the Black Church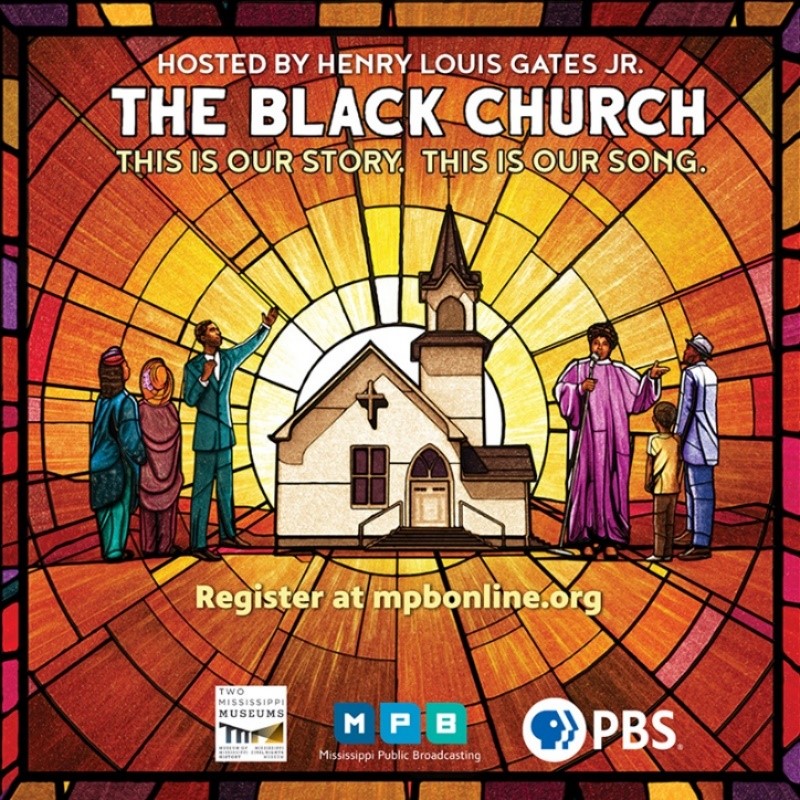 Join Mississippi Public Broadcasting in partnership with the Two Mississippi Museums—Mississippi Civil Rights Museum and the Museum of Mississippi History—for The Black Church Virtual Panel Discussion Event at 7 p.m. Feb. 9 online.
THE BLACK CHURCH: This is Our Story, This is Our Song is a four-hour, two-part series that will air on MPB Television and PBS stations nationwide in February. Henry Louis Gates, Jr. is executive producer, host and writer of the documentary that traces the 400-year-old story and reveals the broad history and culture of the Black church in America.
The documentary reveals how Black people have worshipped and, through their spiritual journeys, improvised ways to bring their faith traditions from Africa to the New World, while translating them into a form of Christianity that was not only truly their own, but a redemptive force for a nation whose original sin was found in their ancestors' enslavement across the Middle Passage.
It explores African-American faith communities on the frontlines of hope and change, featuring interviews with Oprah Winfrey, John Legend, Jennifer Hudson, Bishop Michael Curry, Cornel West, Pastor Shirley Caesar, Rev. Al Sharpton, Yolanda Adams, Rev. William Barber II, BeBe Winans, Bishop Vashti Murphy McKenzie and more. Through their interviews, viewers will be transported by the songs that speak to one's soul, by preaching styles that have moved congregations and a nation, and by beliefs and actions that drew African Americans from the violent margins of society.
The two-part series air dates and times are 8-10 p.m. Feb. 16 and Feb. 17 on MPB Television.
MPB's virtual event will include a screener of the documentary, songs from HBCU choirs, door prizes and the panel discussion. The MPB Education Department will also share details of an essay contest for middle school, high school and college students who submit writings after watching the series as well as educational materials for teachers to use in the classroom.
Panelists for the event are Bishop Ronnie Crudup of New Horizon Church International, Rev. C.J. Rhodes of Mt. Helm Baptist Church, Pamela Junior, director of Two Mississippi Museums; and Lannie Spann McBride, music minister, retired educator and composer. These leaders will share a more local perspective of the church's impact today. Comedienne/musician Rita Brent will moderate the discussion.
Registration is required through Eventbrite here.
PBS, WETA - the leading public broadcasting station in the Washington, D.C. area, and the Corporation for Public Broadcasting are presenting The Black Church series to the nation.
WETA is partnering with PBS in a national virtual event for THE BLACK CHURCH: This is Our Story, This is Our Song on Thursday, February 11 at 6 p.m. To register for that event visit here.
Gates will be the guest of honor. Panelists will include Rev. Dr. Yolanda Pierce, professor and dean of Howard University Divinity School and Rev. Dr. Otis Moss III, Senior Pastor of Trinity United Church of Christ.
Major corporate support for THE BLACK CHURCH: THIS IS OUR STORY, THIS IS OUR SONG is provided by Johnson & Johnson. Major support is also provided by the Lilly Endowment, Inc., Ford Foundation, and by the Corporation for Public Broadcasting, PBS and public television viewers.
For more information on MPB, visit mpbonline.org.
Mississippi Public Broadcasting provides relevant instructional and public affairs programming to Mississippians through its statewide television and radio network.  MPB enhances the work of educators, students, parents and learners of all ages by providing informative programming and educational resources.  MPB's locally-produced programming focuses on the people, resources and attractions that reflect Mississippi's unique culture and diverse heritage. Children's television programs constitute a major portion of the daytime and weekend morning schedules.  MPB provides a valuable resource to Mississippians in disseminating information as part of the state's emergency preparedness and response system.  Since 1970, MPB has won over 350 national, regional and statewide awards, including Emmy®, Edward R. Murrow and Parents' Choice® Awards.
About WETA
WETA is the leading public broadcaster in the nation's capital, serving Virginia, Maryland and the District of Columbia with educational initiatives and with high-quality programming on television, radio and digital. WETA Washington, D.C., is the second largest producing-station of new content for public television in the United States, with productions and co-productions including PBS NEWSHOUR, WASHINGTON WEEK, THE KENNEDY CENTER MARK TWAIN PRIZE, THE LIBRARY OF CONGRESS GERSHWIN PRIZE FOR POPULAR SONG, LATINO AMERICANS and ASIAN AMERICANS; and documentaries by filmmaker Ken Burns and scholar Henry Louis Gates, Jr., including FINDING YOUR ROOTS WITH HENRY LOUIS GATES, JR. (Seasons 3-6), BLACK AMERICA SINCE MLK: AND STILL I RISE and RECONSTRUCTION: AMERICA AFTER THE CIVIL WAR. Sharon Percy Rockefeller is president and CEO. The WETA studios and administrative offices are located in Arlington, Virginia. More information on WETA and its programs and services is available at www.weta.org. On social media, visit www.facebook.com/wetatvfm on Facebook or follow @WETAtvfm on Twitter.
About PBS
PBS, with more than 330 member stations, offers all Americans the opportunity to explore new ideas and new worlds through television and digital content. Each month, PBS reaches over 126 million people through television and 26 million people online, inviting them to experience the worlds of science, history, nature and public affairs; to hear diverse viewpoints; and to take front row seats to world-class drama and performances. PBS's broad array of programs has been consistently honored by the industry's most coveted award competitions. Teachers of children from pre-K through 12th grade turn to PBS for digital content and services that help bring classroom lessons to life. Decades of research confirms that PBS's premier children's media service, PBS KIDS, helps children build critical literacy, math and social-emotional skills, enabling them to find success in school and life. Delivered through member stations, PBS KIDS offers high-quality educational content on TV – including a 24/7 channel, online at pbskids.org, via an array of mobile apps and in communities across America. More information about PBS is available at www.pbs.org, one of the leading dot-org websites on the internet, or by following PBS on Twitter, Facebook or through our apps for mobile and connected devices. Specific program information and updates for press are available at pbs.org/pressroom or by following PBS Pressroom on Twitter.
About McGee Media
McGee Media was founded by award-winning filmmaker Dyllan McGee to produce documentary content that is innovative, compelling, and immersive. Every story is born from a vision of a more fair and equitable world. Whether it is the sweeping history of the African-American experience, or the intimate personal stories of the hundreds of women who made up the feminist movement, McGee Media uses television, film, and digital media in radical new ways to inform and inspire. Recent projects include FINDING YOUR ROOTS WITH HENRY LOUIS GATES, JR., Seasons 3-6 (PBS), RECONSTRUCTION: AMERICA AFTER THE CIVIL WAR (PBS), AFRICA'S GREAT CIVILIZATIONS (PBS), BLACK AMERICA SINCE MLK: AND STILL I RISE (PBS), MAKERS (Verizon Media), ONCE & FOR ALL (AOL), FIRST IN HUMAN (Discovery), and RANCHER, FARMER, FISHERMAN (Discovery).
About Inkwell Media
Inkwell Media was founded by Henry Louis Gates, Jr. to produce sophisticated documentary films about the African and African-American experience for a broad audience. The six-part PBS documentary series THE AFRICAN AMERICANS: MANY RIVERS TO CROSS (2013) earned the 2013 Peabody Award, an Alfred I. duPont-Columbia Award, a News and Documentary Emmy Award and a NAACP Image Award. Inkwell Films has co-produced FINDING YOUR ROOTS (Seasons 1-6), RECONSTRUCTION: AMERICA AFTER THE CIVIL WAR (2019), AFRICA'S GREAT CIVILIZATIONS (2017), BLACK AMERICA SINCE MLK: AND STILL I RISE (2016), BLACK IN LATIN AMERICA (2011), FACES OF AMERICA (2010), LOOKING FOR LINCOLN (2009), AFRICAN AMERICAN LIVES 2 (2008), OPRAH'S ROOTS (2007) and AFRICAN AMERICAN LIVES (2006).