Margaret Burnham, Jerry Mitchell to Speak at State History, Civil Rights Museums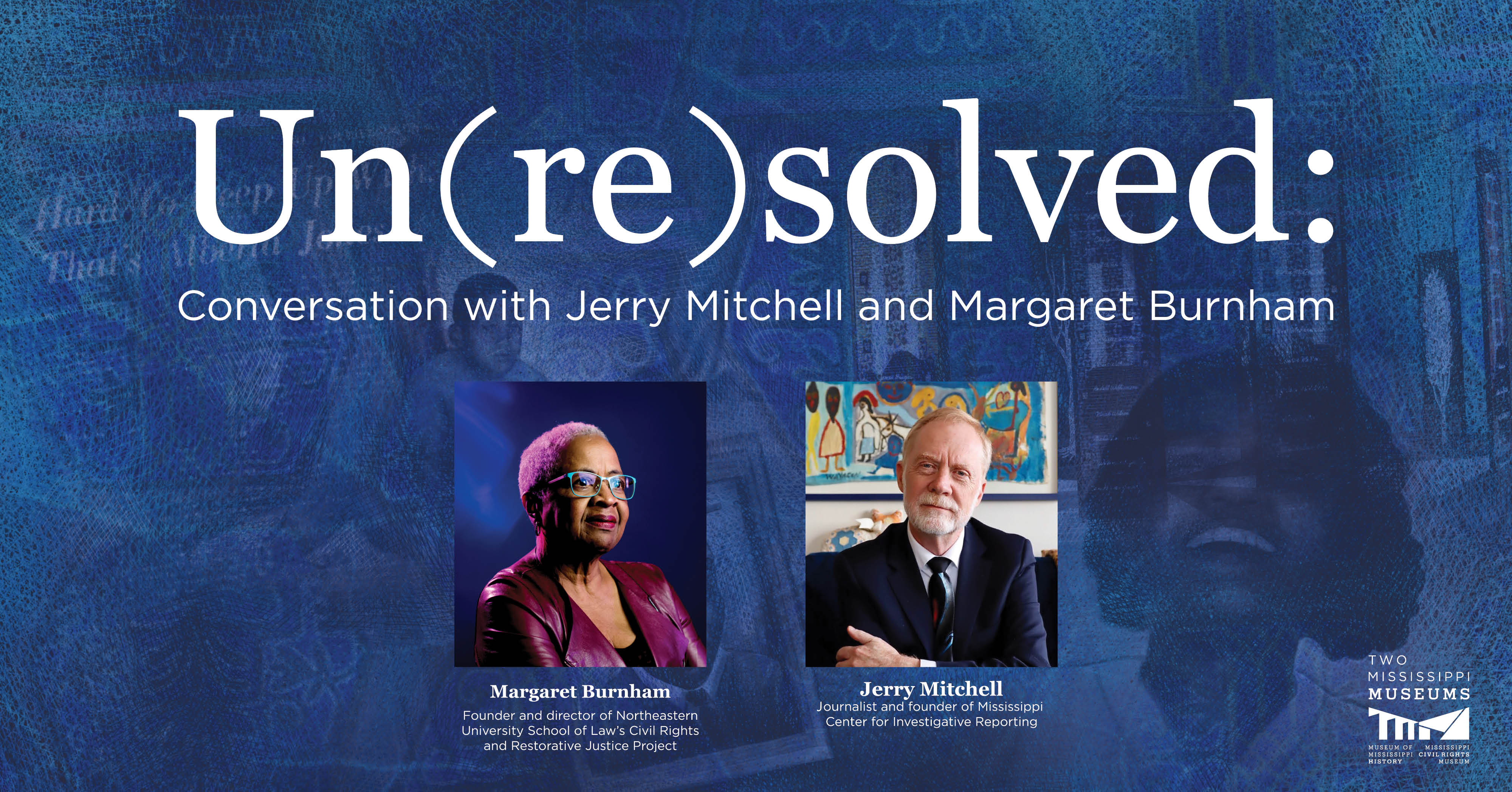 On Tuesday, October 19, The Two Mississippi Museums will host Un(re)solved: Conversation with Jerry Mitchell and Margaret Burnham to discuss the civil rights cold cases highlighted in Un(re)solved—the PBS Frontline traveling augmented-reality exhibit at the Two Mississippi Museums. The event will start at noon and is free and open to the public. It will also be live streamed via the Mississippi Civil Rights Museum Facebook page. Margaret Burnham is the founder and director of Northeastern University School of Law's Civil Rights and Restorative Justice Project (CRRJP), and Jerry Mitchell is a renowned investigative reporter. 
Margaret Burnham and the CRRJP investigate racial violence in the Jim Crow era and other historical failures of the criminal justice system, including Franklin County Mississippi law enforcement officials accused of assisting Klansmen in the kidnapping, torture, and murder of Henry Dee and Charles Eddie Moore in 1964. Burnham is lead advisor for Un(re)solved, and her investigations are featured in the documentary American Reckoning.   
Jerry Mitchell has been investigating civil rights-era crimes for more than thirty years and he is the founder of the Mississippi Center for Investigative Reporting. Mitchell's reporting helped lead to convictions in cases such as the 1963 assassination of Mississippi NAACP leader Medgar Evers, the 1963 16th Street Baptist Church bombing, and the 1964 slayings of three civil rights workers, James Chaney, Andrew Goodman, and Michael Schwerner. Mitchell served on the advisory council that helped guide the development of the Unresolved project.    
Un(re)solved, PBS Frontline's traveling augmented-reality exhibit, is now open at the Two Mississippi Museums and will run through October 24. Drawing on more than two years of reporting, thousands of documents, and dozens of first-hand interviews with family members—as well as current and former Justice Department and FBI officials, state and local law enforcement, lawmakers, civil rights leaders and investigative journalists—the multi-platform exhibit examines the federal government's effort to investigate more than 150 civil rights-era cold cases through the Emmett Till Unsolved Civil Rights Crime Act.