Beading Workshop at Grand Village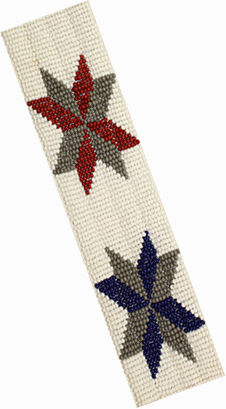 For thousands of years American Indians have used bone, clay, and stone beads in jewelry and clothing. The introduction of glass beads from trade with Europeans sparked an explosion of new forms of artistic expression among Native people. On Saturday, December 8, Grand Village of the Natchez Indians director Lance Harris will lead a workshop on one of the most popular beading techniques known as lane stitch.
In this method, a design is chosen and a grid of lines may be laid out on the leather or fabric piece. When working with the traditional material of sinew, Native Americans would punch holes with an awl at spaces determined by the size of the beads. (For the workshop, needle and thread will be used instead of sinew.) The name of the technique comes from the "lanes" the beads are sewn into that consist of short (usually six to ten beads long) rows fitted tightly together and running perpendicular to the direction of the lane.
"Seed beads" are most often used with this method. The name comes from the beads' small size, which makes them look like something like bird seed. Most of the seed beads used in traditional Native pieces are no larger than 2 millimeters apiece. The glass beads were popular for their durability, uniform size, and bright, vibrant colors.
After an overview of Native American beading and the lane stitch technique, participants will create a piece of their own. The registration fee of $20 covers all needed materials. The deadline to sign up is Wednesday, December 5. For more information or to reserve a spot, call 601-446-6502 or email info@natchezgrandvillage.com.
A native of Laurel, Lance Harris studied history and anthropology at the University of Southern Mississippi. He began attending powwows in his youth and has been constructing dance clothes and beading for twenty-five years. Before joining the Grand Village, Harris was interim director of the Paul and Lulu Hilliard University Art Museum at the University of Louisiana at Lafayette and was the director of curatorial services within the Louisiana Department of State Museums Division.
The Grand Village of the Natchez Indians was the main ceremonial mound center of the Natchez people from 1682 until 1730. The 128-acre National Historic Landmark features three mounds, a plaza, nature trail, museum, and store. Administered by the Mississippi Department of Archives and History, the Grand Village is located at 400 Jefferson Davis Boulevard and is open free of charge to the public from 9 a.m. to 5 p.m. Monday through Saturday and Sundays 1:30 to 5 p.m.