Underground Railroad Performance at OCM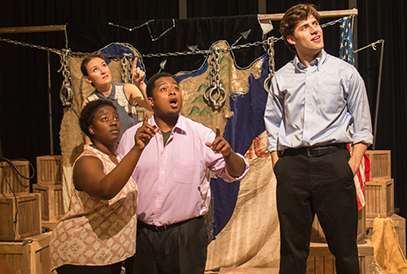 On January 24, the Old Capitol Museum will partner with New Stage Theatre on a performance that explores efforts before the Civil War to help escaped enslaved people make their way to free territory. Oh Freedom! The Story of the Underground Railroad will tell about the men and women active in the fight against slavery with songs of the period.
"Before the Civil Rights Movement, the Underground Railroad was the greatest collaboration against racism in American history," said New Stage Theatre education assistant Betty Wong. "Through it, northerners and southerners of all ethnic backgrounds came together to resist the oppression of slavery."
The performance will include portrayals of famous participants like Harriet Tubman and Harriet Beecher Stowe, but also lesser known heroes of the movement like John Rankin, whose house on a hill above the Ohio River was a beacon for freedom for many escaping bondage; the mysterious "Peg Leg" Joe, who moved among the plantations teaching slaves to escape and "Follow the Drinking Gourd," a song designed to show them the way; and Henry "Box" Brown, who had himself put in a box and mailed to freedom.
The 2016-17 New Stage tour company is composed of Jake Bell, a University of Memphis musical theater graduate; Christan McLaurine, a graduate of Middle Tennessee State University; Jackson native Hope Prybylski, a University of Southern Mississippi graduate; and LaSharron Purvis, a Dillard University graduate with a BA in theater performance, also from Jackson.
"This musical play is such an engaging way to bring to life these important stories from our nation's past," said Old Capitol Museum director Lauren Miller. "We are doubly excited to offer this wonderful event to the public free of charge."
The performance will begin at 6 p.m. on Tuesday, January 24, in the historic House of Representatives Chamber in the Old Capitol, 100 South State Street. There is no charge to attend. Seating will be on a first-come, first-served basis. A reception will follow on the first floor.
Oh Freedom! The Story of the Underground Railroad was written by Peter Manos, who is also responsible for the acclaimed Walk, Don't Ride! A Celebration of the Fight for Equality that was performed at the Old Capitol Museum in 2016. Oh Freedom! is his third play about the Underground Railroad. Manos holds a doctorate in American history and is a playwright, director, and actor. He teaches at Cleveland State University and is artistic director of Bodwin Theatre Company in Cleveland.
"Oh Freedom! celebrates a time when Americans were at their best, supporting one another to extend to all countrymen our greatest, most inalienable right—to be free," Wong said.
The Old Capitol, Jackson's oldest building, is a National Historic Landmark. The museum interprets the years 1839 to 1903, when the site was the seat of government for Mississippi. Located on State Street at Capitol, the museum's regular hours are 9 a.m. to 5 p.m. Tuesday to Saturday and 1 to 5 p.m. Sunday, free of charge. The Old Capitol is a museum of the Mississippi Department of Archives and History. For more information call 601-576-6920 or see www.oldcapitolmuseum.com.