New Book Explores Mississippi History through Architecture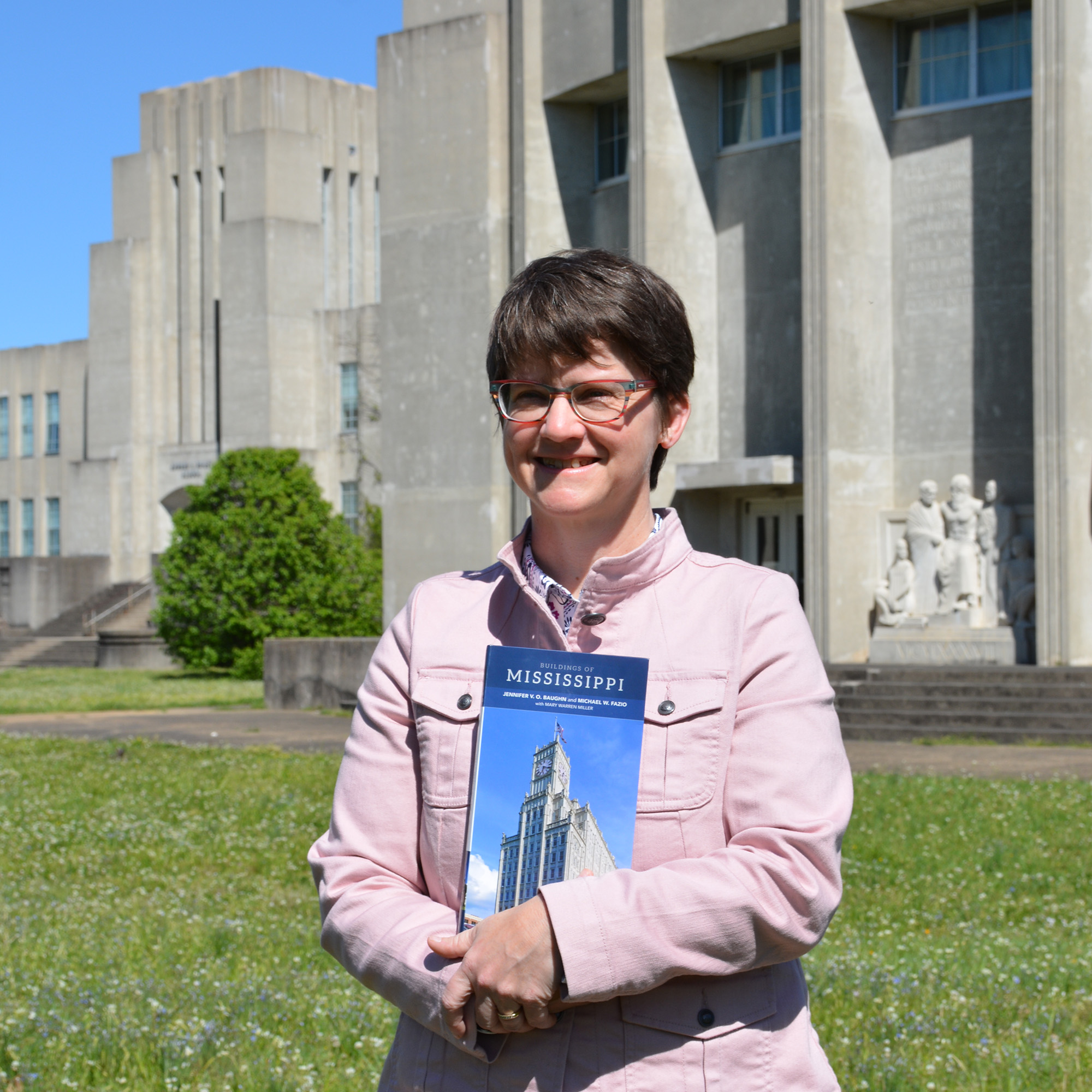 A new book uses Mississippi's civic structures, log cabins, schools, mansions, and skyscrapers to broaden our understanding of the state's history. Buildings of Mississippi, co-authored by Jennifer V.O. Baughn and Michael Fazio with contributions by Mimi Miller, is the definitive guide to understanding Mississippi's rich architectural heritage.
"Buildings of Mississippi is the first field guide that covers all periods from prehistoric mounds to buildings of the 21st century," said Baughn, chief architectural historian at the Mississippi Department of Archives and History. "I hope the book shows visitors the variety of Mississippi's built environment and gives Mississippians a reason to take a second look at their hometowns."
Buildings of Mississippi contains more than 500 building entries, 250 illustrations, and thirty maps. Each entry includes an architectural description of the structure and a brief history. The book is a volume in the Buildings of the United States series of the Society of Architectural Historians. Baughn spent nine years writing Buildings of Mississippi with Fazio, a longtime professor of architecture at Mississippi State University who died last year.
"Michael Fazio was a mentor to generations of architecture students from MSU, and I was so honored to work with him as co-author on Buildings of Mississippi," said Baughn. "He was a good friend, and I miss his guidance and laughter."
Baughn and Fazio divided the work on the book geographically—because Fazio lived in Starkville, he took care of the north and east central regions. They jointly wrote the entries for the Coast, picking out sites as they drove along Highway 90. Mimi Miller, executive director emerita of the Historic Natchez Foundation, wrote the entries for Adams County, setting down in print a wealth of knowledge about some of Mississippi's most architecturally distinctive buildings.
"The book integrates the racial landscape by examining both black and white neighborhoods and landmarks," said Baughn. "There are the famous white-columned mansions of Natchez that have been the mainstay of heritage tourism since the 1930s but also the distinctive outbuildings that surround them such as kitchens, dairies, and quarters for enslaved workers; there are also elite neighborhoods like Eastover in Jackson nearby the modest GI Subdivision, established by World War II veterans returning from service."
"Buildings of Mississippi is an invaluable resource and a pleasure to read," said MDAH director Katie Blount. "Baughn and Fazio offer a fascinating, thoughtful, and beautifully written chronicle of the evolution of our state's built environment, paying particular attention to the complexities of race and class that have shaped our landscape and culture."
Signed copies of Buildings of Mississippi are for sale at the Mississippi Museum Store. Call 601-576-6921 or email store@mdah.ms.gov for more information.