Living History Program at Old Capitol Oct. 17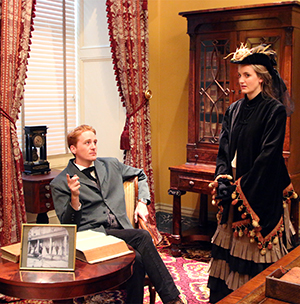 The Mississippi Constitution of 1832 prohibited dueling throughout the state, particularly among legislators who swore an oath before taking office. But that oath did not stop former governor Hiram Runnels from challenging Thomas Kearney to duel over an article published in a local paper.
The confrontation is just one of many highlights featured in this year's Present Meets Past living history program at the Old Capitol Museum. The event will begin at 5 p.m. on Thursday, October 17.
"This is our tenth year showcasing prominent Mississippians through this fun, family-friendly program," said Old Capitol Museum director Lauren Miller. "We are thankful for the living history performers that donate their time to this popular event."
Historical figures, ready to discuss the events of their times, who will be stationed throughout the building include:
Charlotte Capers, former director of the Mississippi Department of Archives and History from 1955 to 1969
Piety Smith Hadley, wife of Senator T.J. Hadley and boarding house manager
Thomas Kearney, author of an insulting letter about former governor Hiram Runnels in The Mississippian
The Tuberculosis Association's Mobile Clinic Nurse, who helped to perform 485,000 chest x-rays to reduce tuberculosis in Mississippi
McKinley Morganfield, an iconic bluesman from the Mississippi Delta known as "Muddy Waters"
Annie Coleman Peyton, co-founder of the Mississippi University for Womenn
Tilghman Tucker, first governor to reside in the Mississippi Governor's Mansion
Hiram Runnels, former Mississippi governor who began construction of the Old Capitol
Dr. Felix Underwood, the father of public health in Mississippi
William Yerger, delegate to the Constitutional Convention of 1865 and Mississippi peace commissioner
"Attendees are going to enjoy the period attire our performers will be donning during the program," said Marilynn Jones, MDAH special projects manager and costume designer for the program. "From the bluesman outfit of Muddy Waters to Annie Coleman Peyton's dress, there will be something for all to delight in."
The performers will remain in character throughout the evening and visitors are invited to ask questions and interact with them.
The Old Capitol, Jackson's oldest building, is a National Historic Landmark. Located on State Street at Capitol, the museum's regular hours are 9 a.m. to 5 p.m. Tuesday to Saturday and 1 to 5 p.m. Sunday, free of charge. The Old Capitol is a museum of the Mississippi Department of Archives and History. For more information call 601-576-6920 or visit their website at www.oldcapitolmuseum.com.