Eudora Welty House Director Chosen
Lauren Rhoades has been named the new director of the Eudora Welty House and Garden. She previously served as public assistance specialist at the Welty House.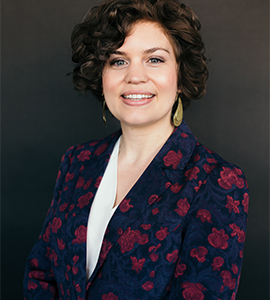 Rhoades worked for two years as a FoodCorps service member in Jackson and led nutrition and garden education programs at Magnolia Speech School and Raines Elementary School. In 2015, she was named the FoodCorps Mississippi State Fellow. Her food writing has been featured in the Jackson Free Press and Cookinglight.com.
Previously, Rhoades worked with school groups, developed public programming, and managed the Education and Visitors Center gift shop.
"The Eudora Welty House and Garden is a special place for our state," said Rhoades. "I am honored to take on a leadership role in preserving Welty's legacy and encouraging a love of literature, alongside MDAH and our partners at the Eudora Welty Foundation."
Rhoades earned BA degrees in English literature, Spanish, and political science from the University of Colorado at Boulder. She is currently working on her MFA in creative writing at Mississippi University for Women.
The Eudora Welty House and Garden, which interprets the life of the internationally acclaimed author, became a National Historic Landmark in 2004. The site opened to the public in 2006.
Located at 1119 Pinehurst Street in Jackson, the house is open for tours Tuesday through Friday at 9 and 11 a.m. and 1 and 3 p.m., and the second Saturday of each month at 9 and 11 a.m. To book a tour, or for other inquiries, email info@eudoraweltyhouse.com or call 601-353-7762.