Community Foundation Donates $750,000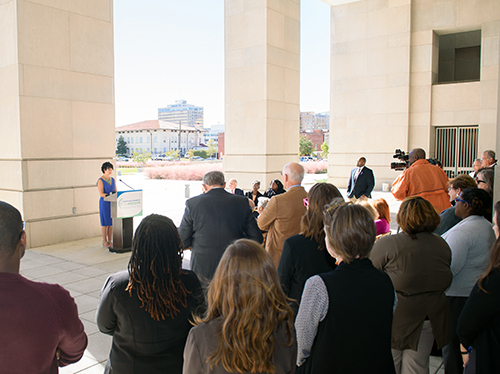 The Community Foundation of Greater Jackson has made a $750,000 contribution to the Mississippi Department of Archives and History's Two Mississippi Museums project. The gift, made possible by a bequest from John F. and Lucy Shackelford, will sponsor the permanent exhibit gallery at the Museum of Mississippi History.
During a news conference the group also announced that it will rename itself as the Community Foundation for Mississippi. "This organizational name change represents a larger vision for the community foundation that includes an expanded philanthropic footprint," said Jane Alexander, president and CEO of the Community Foundation for Mississippi. "As the Community Foundation for Mississippi, we are seeking to serve as a point of connection for individuals, institutions, and our network of community foundations to ensure the resources needed to do good work are accessible and available in every community."
"There could be no more appropriate sponsor for the permanent exhibit gallery of the state history museum than the Community Foundation for Mississippi, and we are deeply grateful to the Shackelford family who made that gift possible," said MDAH director Katie Blount. "Both the Community Foundation and the Shackelford gift embody what the museum is all about: One Mississippi, Many Stories."
The Museum of Mississippi History will tell the state's story through eight smaller galleries that explore the entire sweep of Mississippi's history, from earliest times to the present. The museum features interactive exhibits incorporating more than 1,500 artifacts, as well as the firsthand stories from people who shaped the state.
The state has invested $90 million to date for construction and exhibits for the museums. The Legislature required a dollar-for-dollar match for the exhibits, and the Foundation for Mississippi History has raised more than $18 million in gifts and pledges. The museums will open December 9 as the centerpiece of the state's bicentennial celebration.
The Mississippi Department of Archives and History is the second-oldest state department of archives and history in the United States. The department collects, preserves, and provides access to the archival resources of the state, administers museums and historic sites, and oversees statewide programs for historic preservation, state and local government records management, and publications. For more information call 601-576-6850 or see www.mdah.ms.gov.