Blues Site Named a Mississippi Landmark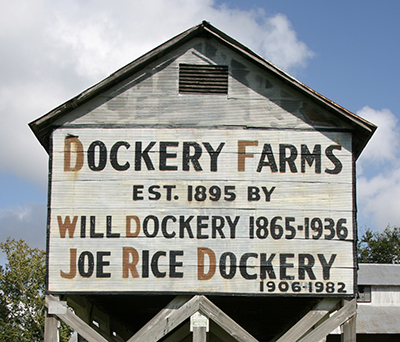 A site linked to the birth of the Delta blues has been named a Mississippi Landmark. Dockery Farms, a plantation and sawmill complex on Highway 8 between Cleveland and Ruleville, received the designation at the July board meeting of the Mississippi Department of Archives and History.
The plantation was established in 1895 by Will Dockery (1865–1936) when the Delta was still a wilderness of forest and swamp. The land was cleared and planted with cotton. The opening of a branch of the Yazoo and Mississippi Valley Railroad, known as the Yellow Dog, allowed for development around the remote site, and sometime around 1900, Dockery connected his plantation with a local line whose twisting path earned it the nickname the "Pea Vine."
Dockery Plantation eventually supported more than 2,000 workers. A Mississippi Blues Trail marker at the site calls it "one of the primal centers" for blues music in the state: "For nearly three decades the plantation was intermittently the home of Charley Patton (c. 1891-1934), the most important early Delta blues musician. Patton himself learned from fellow Dockery resident Henry Sloan and influenced many other musicians who came here, including Howlin' Wolf, Willie Brown, Tommy Johnson, and Roebuck "Pops" Staples."
Dockery Farms consists of eight original buildings—a commissary storage building, a cotton gin, a cotton shed, a hay barn, a seed house, a service station, a mule trough station, and a storage shed. The structures were designed and built by Will Dockery and his farm workers.
The property was added to the National Register of Historic Places in 2006. Dockery Farms was designated at the request of the Dockery Farms Foundation, which currently manages the site.
The Mississippi Landmark designation is the highest form of recognition bestowed on properties by the state and offers the fullest protection against changes that might alter a property's historic character.
MDAH maintains an ongoing survey of likely Mississippi Landmark properties, and welcomes nominations by communities or private citizens. Although the program was designed for public properties, owners may nominate their own historically significant properties. Proposed changes to a Mississippi Landmark must be approved in advance by the Permit Committee of the Board of Trustees of the Department of Archives and History.
Members of the board of trustees are Kane Ditto, president; E. Jackson Garner, vice president; Reuben V. Anderson, Jackson; Nancy Carpenter, Columbus; Valencia Hall, Natchez; Betsey Hamilton, New Albany; Web Heidelberg, Hattiesburg; Hilda Cope Povall, Cleveland; and Roland Weeks, Biloxi.