Applications Open for Evers Scholarship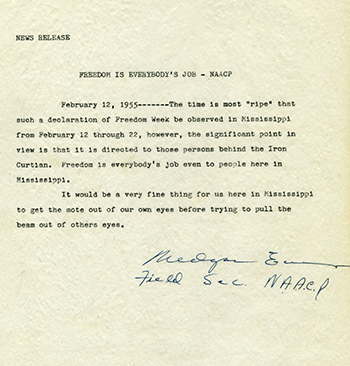 The Mississippi Department of Archives and History is accepting applications for the 2020 Medgar and Myrlie Evers Research Scholars Program, which supports the use of primary resources documenting the Civil Rights Movement at the state archives in Jackson. This competitive scholarship of $4,000 is for research at MDAH during summer 2020 and covers travel, housing, and other expenses.
The Evers Scholar program is co-sponsored by the Medgar and Myrlie Evers Institute and the Mississippi Department of Archives and History. The application form is available for download here, and the deadline to receive applications is March 27.
"We're delighted to partner with the Evers Institute on this scholarship," said David Pilcher, director of MDAH Archives and Record Services. "Our goal is to facilitate new and exciting research using the tremendous resources here at the state archives."
Medgar Evers was state field secretary for the NAACP in Mississippi from 1954 until his assassination in 1963. Myrlie Evers, his widow, was also a civil rights activist and served as chair of the NAACP board of directors from 1995 to 1998.
The Medgar Wiley and Myrlie Beasley Evers Papers at MDAH include Evers and Beasley family papers dating from the early 1900s to around July 1964, when Myrlie Evers and her children moved to Claremont, California. The papers are divided into four subgroups: the papers of Medgar Evers as Mississippi field secretary of the NAACP; family papers of Medgar Evers; family papers of Myrlie Evers; and records relating to the case of the State of Mississippi v. Byron De La Beckwith.
The Evers Papers may be accessed at the William F. Winter Archives and History Building, 200 North Street, Jackson. For more information on the Evers Scholar program, contact Laura Heller at 601-576-6850 or by email at lheller@mdah.ms.gov.